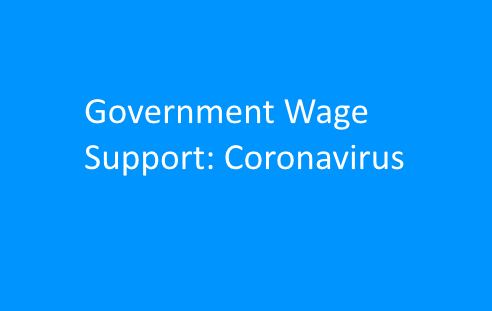 Since the various Government announcements over the past days myself and the team have been overwhelmed by the number of calls, messages from clients of which majority are asking the same question, how do I get the government wage support and funding? I thought it necessary to send out this bulletin to all clients. I apologise to all clients to whom myself or the team have not been able to answer as of yet. I hope this will answer some of your queries, however if you still have further questions or have queries regarding another matter myself or one our team members will get back to you on Monday or as soon as possible.
Yesterday, as you are probably aware the Chancellor confirmed that 80 percent of staff salaries under PAYE would be paid by the government up to £2,500 per worker.   For this a new Coronavirus Job Retention Scheme will be setup to help employer's pay staff wages.
Business Eligibility
Any employer of any size, charitable or non-profit will be eligible for the scheme.
When will it be available from?
Backdated from start of March and will last for three months. The chancellor has said if it was necessary he would extend the scheme further.
How to apply for the Scheme?
Currently you cannot apply for the scheme as we await further details. There will be a new online portal which HMRC are working urgently to setup this system for reimbursement and as soon as it becomes available we will update all our clients accordingly.
To claim under the scheme employers will need to:
designate affected employees as 'furloughed workers', and notify employees of this change. Changing the status of employees remains subject to existing employment law and, depending on the employment contract, may be subject to negotiation.
submit information to HMRC about the employees that have been furloughed and their earnings through a new online portal. HMRC will set out further details on the information required.
HMRC will reimburse 80% of furloughed workers wage costs, up to a cap of £2,500 per month.
Business that need short-term cash flow support, may benefit from the VAT deferral announced below and may also be eligible to apply for a Coronavirus Business Interruption Loan below.
Coronavirus Business Interruption Loan Scheme
These should be available from Monday 23 March and are delivered by lenders that partner with the British Business Bank, including all the major banks. The lender receives a guarantee of 80% of the loan amount from the government. Further details below https://www.british-business-bank.co.uk/ourpartners/coronavirus-business-interruption-loan-scheme-cbils/
They are available for UK-based businesses with turnover of no more than £45 million and can provide for a facility up to £5 million. The borrower remains liable for 100% of the debt.
No interest will be charged for the first 12 months.
Other Reliefs and Deferrals
VAT payments
The next quarter of VAT payments will be deferred, meaning businesses will not need to make VAT payments until the end of June 2020. Businesses will then have until the end of the 2020-21 tax year to settle any liabilities that have accumulated during the deferral period.
The deferral applies automatically and businesses do not need to apply for it. VAT refunds and reclaims will be paid by the government as normal.
Income Tax payments
Income Tax payments due in July 2020 under the Self-Assessment system will be deferred to January 2021.
Income Tax Self-Assessment payments due on the 31 July 2020 will be deferred until the 31 January 2021. This is an automatic offer with no applications required. No penalties or interest for late payment will be charged in the deferral period.
Universal credit
Self-employed people can now access full universal credit at a rate equivalent to statutory sick pay.
HMRC Time to Pay
HMRC's Time to Pay scheme can enable firms and individuals in temporary financial distress as a result of Covid-19 to delay payment of outstanding tax liabilities. HMRC's dedicated Covid-19 helpline provides practical help and advice on 0800 0159 559.
What about the Self-Employed?
Unfortunately, apart from the deferral of tax payments, SSP and availability of Universal credit at a rate equivalent to SSP for employees there is currently no such income support equivalent to the level of support the government has given above to PAYE employees. Although the government has said it will announce further measures to support self-employed within the coming days.
We will keep our clients posted on any further developments.
Kind Regards
Zeeshan Khokhar FCCA ACA